"The only impossible journey is the one you never begin"
Those are not my words but they do an exceedingly good job of capturing the essence of our journey that has been this endurance race which finally came to an end yesterday.
As we rolled in from Mandalay to the finish line in Bagan on February 24th, I reflected on the events both on and off the racetrack for the past few weeks.  What stood out above all was the improbability of it all.
There were at least a dozen moments during this journey when our race either never started or once started, the car teetered on the edge of disaster and disqualification. As reference, of the 75 cars that entered, 19 dropped out along the way and only 56 made its way to the finish line. We were one of the very few newbie rally racers that made it to the finish line along with the 56 although every nut and bolt and bearing in that poor car was squealing and moaning like a Walrus.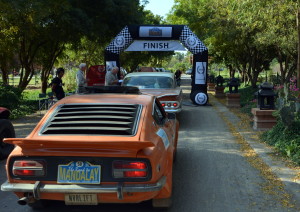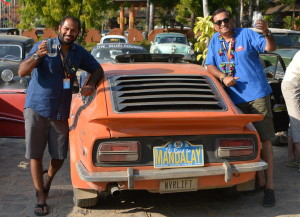 What also stood out was not just the excitement of competing and doing well in the race but also a deep sense of realization that my identity and my experience as an endurance racer and a traveler connected with each other and changed who I am. Have written about this in my previous Day 20 blog: "Discovering Lakes and Longings on The Road to Mandalay"
Finally, what loomed large were the life lessons from this race.  A global rally race is very different from the circuit racing I've been doing for the past couple of decades. As a circuit racer, I have always been about speed. This race however, taught me not to be just quick and fast but also to have the right skills, equipment, and above all the temperament to endure and persist as we took on some of the toughest terrains and traffic conditions in the world for 24 continuous days over 8,400km.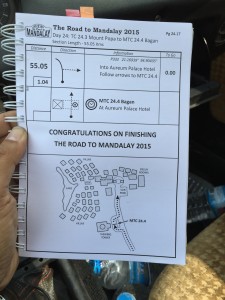 Specifically the temperament change required us to re-double our belief and re-frame towards setting small daily goals vs getting transfixed on the big one.  After we almost failed to make it to the start in Singapore due to the #ratbastard incident, Avi and I broke our goals down into small size manageable chunks and worked on it each day with the focus of a monk. Our goals were small and successive: make it to the start of the race by fixing the rat chewed wiring , get the radiator issues fixed to get us across to Malaysia, Fix the fuel pump/engine/shocks to get to Burma, finish the race one better than the last guy.
In the end what endured was the human spirit backed by the capabilities of an incredible machine called the Datsun 240z. Of course, having a stupid ass budget helped as well. On that note, one of the rally teams had it right when they named their team A.F.R.I.C.A which, we were informed later, stood for "Another F$#@ing Rally I Cannot Afford". Funny! God willing I will have a few other Africa's in my future.
Closing Day:
It was very apt that the journey ended in the spectacular settings of Bagan — a city known for its parched lands and stunning temple pagodas. Located in central Burma, Bagan is one of the world's greatest archeological sites, a site to rival Machu Picchu or Angkor Wat but – for the time being at least – without the visitors.
The setting is sublime – a verdant 26 square-mile plain, part-covered in palm and tamarind trees and framed by the hazy silver-grey of distant mountains and the lazy-flowing Irrawaddy river.  Rising from the pl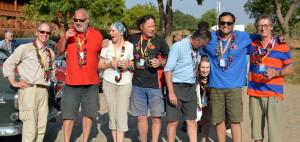 ain's canopy of green and brown are temples, hundreds of them. Stunning other-worldly silhouettes that were built by the kings of Bagan between 1057 and 1287, when their kingdom was swept away by earthquakes and Kublai Khan and his invading Mongols. Today some 2,230 of an original 4,450 temples survive, a legacy of the Buddhist belief that to build a temple was to earn merit.
Most temples are superbly preserved or have been restored by Unesco, among others, and many contain frescoes and carvings and statues of Buddha, big and small. Only a handful are regularly visited, and by the standards of sites of a similar beauty and stature these temples are a gloriously unsullied destination. To say that there is truly nothing like it in the world would be an understatement. Bagan is the place where travel dreams come true to quote a fellow blogger.
More pictures on the final day and the memorable Balloons over Bagan at:
https://www.facebook.com/media/set/?set=a.10153759896882366&type=1&l=31570aef68
After an impressive race finale at the Aureum Resort we decided to sign up for the Balloon trip over the temples e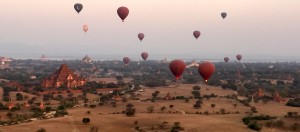 arly the next day. We then got busy with high fiving and hugging each other with the survivors for having "made it". On a lighter note, I also realized that I had to shift to the European two cheek social kiss with the fairer sex vs the American one cheek version. This led to some rather shall we say, unfulfilled hugs. I picked up on that "miss" quick and order was soon restored to the festivities.
This was soon followed by the racers sharing their version of embellished horror stories of the race interspersed with both boasts and compliments to the opposition for their racing skills and our babies (cars). We got a lot of compliments (Smug, smug!) The two we often heard regularly were 'Boy you guys sure zoom by us like Road Runner' and 'We thought you may never make it to the end given the car troubles'.  The group was also generous to follow up their concern with advice, copious amounts of it, about how to ruggedize the car for the next rally race. We already have a list of almost 50 items to upgrade our car around which includes things such as "dual fuel lines, dual ignition coils, dual brake lines, brembo brakes, lighter gearbox, heavier kick-plate, faster transmission etc. etc.
Later that evening we celebrated the winners and sadly we were not one amongst them. Our penalties for getting into the ditch and fuel pump breakdown added almost an hour to our time which eliminated us from contention and we ended up at 17th position after starting off in the top 10. As context, endurance rallies are scored by each team being given minutes on daily tests as well as for any delays around getting from point A to point B in the allotted time. These totals are then added over the 24 day period to arrive at the winner.  This is a very winnable event if you have the skills and very importantly a well-prepared car that can handle the demands of rally racing.
Final Day:
We went to bed relatively early as we had get to the Balloons over Bagan at 5am the next morning. Early next morning we were transported in Canadian built wooden buses that were brought over in World War II for the purposes of transporting troops. At the end of the war, the cost of shipping all the buses back to Canada was prohibitive and so they were left behind. We sat in these surprisingly comfortable buses to the Balloon launching site and drove by villagers huddled by small fire pits making tea with their gaunt faces reflecting the light and their eyes glinting with the anticipation of hot tea on a cold February morning.
The Balloons were all neatly arranged on the ground with the wooden carriages looking like the shell of a moon lander in a Jules Verne novel. The large heater engines periodically shot blasts of fire up like a wyer of dragons announcing their intent to scale the Pagodas and making it a very surreal and a memorable morning. A trip to Bagan should be a must for every traveler to Burma as should the Balloon ride over the temples.
The stunning view of the temples we saw from the Balloons gave a soaring and fitting send off to what was an incredibly well organized rally and one of the most physically and mentally challenging events many of us have ever participated in. The best way to describe our improbable journey is through Ithaka, CP Cavafy's masterpiece spiritual poem on life.
ITHAKA
As you set out for Ithaka
hope the voyage is a long one,
full of adventure, full of discovery.
Laistrygonians and Cyclops,
angry Poseidon—don't be afraid of them:
you'll never find things like that on your way
as long as you keep your thoughts raised high,
as long as a rare excitement
stirs your spirit and your body.
Laistrygonians and Cyclops,
wild Poseidon—you won't encounter them
unless you bring them along inside your soul,
unless your soul sets them up in front of you.
Hope the voyage is a long one.
May there be many a summer morning when,
with what pleasure, what joy,
you come into harbors seen for the first time;
may you stop at Phoenician trading stations
to buy fine things,
mother of pearl and coral, amber and ebony,
sensual perfume of every kind—
as many sensual perfumes as you can;
and may you visit many Egyptian cities
to gather stores of knowledge from their scholars.
Keep Ithaka always in your mind.
Arriving there is what you are destined for.
But do not hurry the journey at all.
Better if it lasts for years,
so you are old by the time you reach the island,
wealthy with all you have gained on the way,
not expecting Ithaka to make you rich.
Ithaka gave you the marvelous journey.
Without her you would not have set out.
She has nothing left to give you now.
And if you find her poor, Ithaka won't have fooled you.
Wise as you will have become, so full of experience,
you will have understood by then what these Ithakas mean."
—-
As I head back to Austin, I have already started planning my next Ithakas (and A.F.R.I.C.As).   Adios!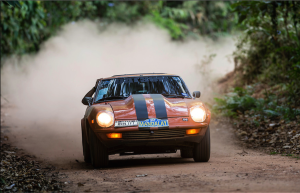 http://saxenaracing.com/wp-content/uploads/2018/07/Gerard-2015-02-017.png
963
1500
saxenaracing
http://saxenaracing.com/wp-content/uploads/2018/08/logo_dark.png
saxenaracing
2015-02-26 01:48:28
2018-08-13 09:21:05
Day 24 of 24: Epilogue -- "The only impossible journey is the one you never begin"