Georgetown, Malaysia. Rest Day.
On Day 5 we zoomed into the island of Penang after crossing the longest bridge in Asia.. a 20km long gargantuan span where we put the Datsun to a speed test and went over 170.. in the process we overtook pretty much the entire field many of whom I am sure were shaking their fists at this pair of newbies.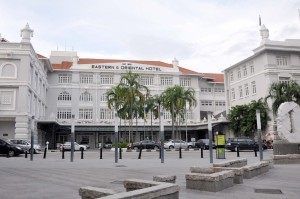 We then rolled into Eastern and Oriental Hotel, an 1875 colonial heritage hotel that is an oasis of opulence, calm and above all was air-conditioned and dust free!
The term 'rest day' is a bit misleading as much of the day is spent fixing up the car and if you are lucky, fixing yourself up. To quote one of the participants, the entire garage looked like a refugee camp of well to do folks down on their hands and knees coddling and in some cases, beating up their machines.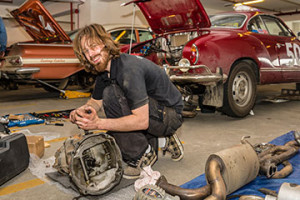 Given we were one of the first ones to arrive, we had the hotel manager arrange for a local garage to meet us and haul away the car for a series of repairs/patch ups. These included: dismantling and cleaning the brakes, fixing the front right brake squeal (courtesy of the mud from the rolling into the ditch incident), repairing faulty emergency flashers, replacing seat cushions, adding an extra radiator fan to help with cooling, fixing broken door handle, topping off fluids, replacing blown front headlight, fixing oil leaks at the differential and under the distributor.
Standard stuff to expect after you beat up a 44 year old machine extensively for 5 days straight. Some of the other contestants had more serious issues and one of them had a gearbox and a mechanic flown in from Belgium for his VW Karmann Ghia.. talk about dedication.. makes our rat episode look small although we used brute force and determination to b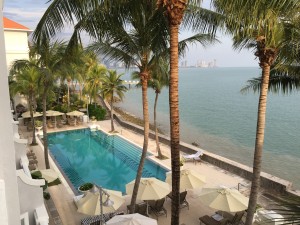 eat that rodent. In fact, in memory of the rat conquest, we have been considering naming our car Datsun Donatello.. views?
After handing over the car to the garage, we made it back to the hotel in the evening and I promptly dove into a tub bath using some of the hotel provided Epsom salt. Proven cure for sore everything. After the bath, we decided to recee the city for our mission the next day.
End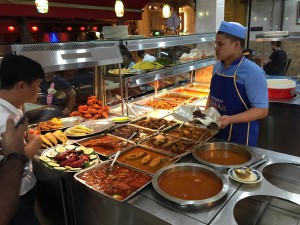 ed up getting a great low cost Indian-Malay fusion meal at hotel Jaya and then had our first massage which deserves a separate entry… time permitting I shall post that tonight.
I woke up early on rest day determined to get a classic straight razor shave and top it up with a mani and a pedi (never had one in my life). Was driven by how I Iooked the night before.. could have easily be confused for a newly released POW after the Tet offensive.
I promptly called up our butler (yes we have a dedicated one in this fru fru hotel by the sea) and asked for an English speaking guide and car which arrived as scheduled. Avi and I then set out looking for shave, pedi and mani.. Avi had this distinct amused look on his face which mimed "mani, pedi? really?" but I decided to ignore it.
We drove up to one of those Asian barbershops with the red and white barber pole spinning in front. (A quick history lesson for the uninitiated: The look and colors of the barber pole are linked to bloodletting, with red representing blood and white representing the bandages used to stem the bleeding. The pole itself is said to symbolize the stick that a patient squeezed to make the veins in his arm stand out more prominently for the procedure. It is a legacy of a (thankfully) long-gone era when people went to barbers not just for a haircut or shave but also for bloodletting and other medical procedures)
As I made my way into the seat with this bloody history in mind, I was greeted by a recently transplanted Nepali kid who looked no more than 15. With visions of a bloody face and Nike child labor articles in mind, I did a quick shift into Hindi to verify two things: asked him if he was older than 18 (he seemed offended but confirmed he was), then asked him if he has done any straight razor shaves before.
Now he was positively offended and went about demonstrating how and why the government of Malaysia gave him a "barber visa" (I am guessing that). He was masterful to say the least and threw in a spectacular head and neck massage at the end. During the 20 minute nirvana I managed to find out a lot about him.. that he arrived three months ago form rural Nepal, makes MR900 (<$300) a month including room and board, and that he misses home.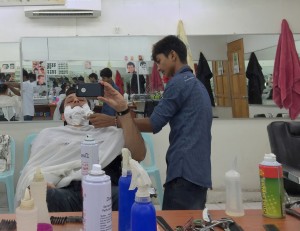 The results were spectacular. My face felt like a baby's butt.. soft, smooth and eminently touchable. I decided to give into some self-indulgence and kept feeling my face and thinking of babies while trying to keep my mind from drifting into different types of smooth surfaces.. had to check and chide myself a few times. As I was working away these asinine thoughts from my evil twin with bad inner voices, disaster struck. My cheeks that were the epitome of a baby's butt suddenly started morphing… they still felt like a baby's butt but one with a severe case of diaper rash!!
A quick replay and I realized the blotchy redness had to do with this lotion my Nepali barber applied at the end… it smelled like something from Scheherazade's kit in 1,000 Arabian nights and stung like a mother. I realized he went crazy with the lotion after I handed him RM 20 for the shave and then threw in a tip for RM100 to ease his homesickness. As a measure of appreciation, the poor young man decided to splash on an entire bottle of Scheherazade's version of Old Spice on my face leading to the rapid reddening. Taking quick evasive action, I ordered a few wet towels to wipe my face down and it quickly averted a facial farce.
Having conquered Shaving, Avi and I then went in search for Mani and Pedi and asked the driver to take us to the best Chinese nail spa in town.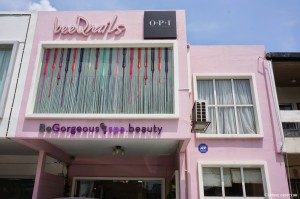 He promptly drove us to this place that looked pretty legit. I popped open the door and asked if they would do mani and pedi for two guys. The look from the spa owner and the patrons (all chinese women) quickly gave me an indication that I should bolt and avoid one of the scenes from a Hong Kong production featuring Jackie Chan with a mob chasing him down the streets.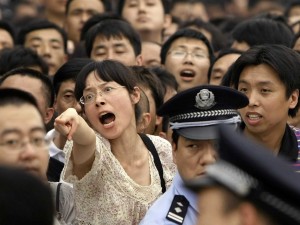 Having survived that experience, I decided to skip the streets of Georgetown and ask for a mani and pedi in the safe confines of our five star hotel. Figured they were bound of have these services for both sexes. Once again, the look from the Spa manager and her polite explanation of "we don't yet offer those services" told me that should abandon the mani and pedi search at least here in Malaysia. So, with a heavy and unfulfilled heart, I am leaving Malaysia and looking ahead longingly to Thailand for some action.
We leave Malaysia tomorrow (Day 7) for the Thailand frontier. In addition to the 130 drivers and navigators, there are 18 crews on this event who got some well deserved rest. They have been working tirelessly setting up race circuits, manning passage and time controls and in some cases, fixing up people. On that front, we got the news from the couple who were in a rather bad crash and are being treated in Singapore. Rabia, the lady has had an operation to have her broken arm pinn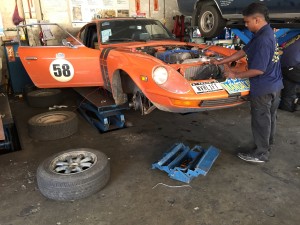 ed, and Daniel has had a thorough check over after breaking a couple of ribs. Both are expected to make full recovery.
Looking forward to the drive and race into Thailand tomorrow and into what is supposed to be a charming Thai welcome at the Rua Rasada Resort, at Trang.  Feels good to complete 2,000km or a quarter of the race. Feels even better that the car held up and we are holding on to a respectable top third position overall.  It is still a long race with many more interesting moments and ranking changes to come.
http://saxenaracing.com/wp-content/uploads/2015/02/shave-1.jpg
1612
2090
saxenaracing
http://saxenaracing.com/wp-content/uploads/2018/08/logo_dark.png
saxenaracing
2015-02-06 14:49:22
2018-08-13 09:40:46
Day 6 Report: And on the sixth day we rested (and went looking for mani and pedi)