Trang to Khao Lak. 463 kms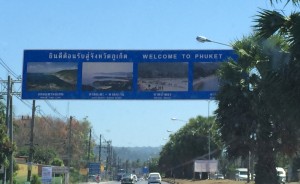 It was one of the more busy days as the route headed for Khao Lak on the island of Phucket. Our first stop was coffee at the cleverly named "Cabbages & Condoms" cafe, where the story goes the owner of the café used to back in the day go about handing condoms to the Thai population to control the AIDS epidemic. He would also hand out cabbage to men as it is apparently suppresses libido (end of cabbage soup for me now..)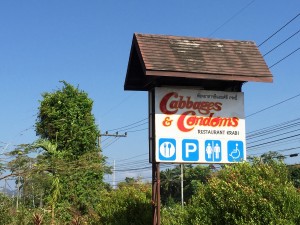 We drove a long day and took part in two Regularity tests – for rookies like us, tackling an average-speed test with a secret finishing point was a new experience.  The other test was a closed-road Test-section which was another hillclimb which corkscrewed up the side of a mountain with thick green vegetation of banana trees on each side. All this shook up the leaderboard. Avi and I did extremely well on both the tests especially given we had never ever done a regularity. We would have ended up very high on the leaderboard with a flat 3:00 on the speed section but for coming in too hot at the finish line which resulted in a 1:00 penalty.
Ovearall, we are gradually climbing our way back on the leader board to make up for the large time penalty we got on Day 2 for getting into the ditch. Avi and I analyzed our daily results for the past 9 days and have realized that we can easily be a top five contender in our class out of the 70 cars.. provide we kept out of rookie penalties and also have a car prepped better so that can take some of the beating.. Some of these guys have spent north of $300,000 building up their cars compared to the 1/3rd or less we spent on our little orange contender.
After the regularity section, we crossed the Sarasin Bridge onto Phuket. A double run over a "gradiently challenging" road was a great thrill, before we stopped for a short coffee halt to reset the adrenaline sensor and then wrapped the testing route through the forest to Khao Lak appropriately called "Phucket Up and Over".
The next day was another rest day.  However, we spent a good part of it taking care of the car at a local mechanic shop.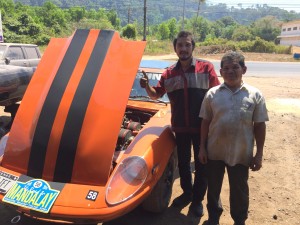 Got multiple issues fixed such as steering wobble/alignment, broken door handle, fluids check, and had them look at the rumble in the transmission. Despite various attempts they were unable to fix it and we are now stuck with a car that drives well but has the ominous rumble from the gear box-transmission shaft area.. While attempting to diagnose the problem, we met this rather interesting chap who had a T-shirt with the picture of Colonel Sanders and the words "Original Bastard" emblazoned across it..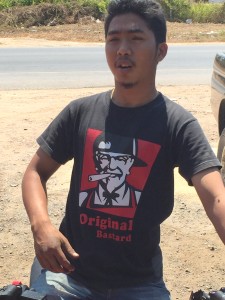 it gave us some much needed laughter on a rather tense day as we were babying the car back to full health. Going to get the ERA mechanics look at it tomorrow.. getting a bit worried and have started praying to the car Gods..
We also took the time later in the day to take in the beauty of the place and also enjoy yet another amazing authentic Thai dinner in a dive of a place.. these Thais sure know how to cook and their sauces are just from another world.. enjoy some of our culinary experiences in form of these pictures..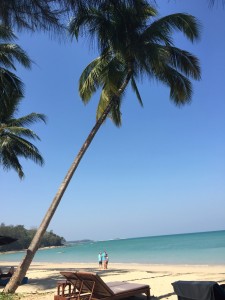 http://saxenaracing.com/wp-content/uploads/2015/02/IMG_2251-1.jpg
2448
3264
saxenaracing
http://saxenaracing.com/wp-content/uploads/2018/08/logo_dark.png
saxenaracing
2015-02-10 13:47:25
2018-08-13 09:38:51
Day 8 and Day 9: Phucket we said